Normal 0 false false false EN-US X-NONE X-NONE MicrosoftInternetExplorer4 Normal 0 false false false EN-US X-NONE X-NONE MicrosoftInternetExplorer4

I've welcomed many experts to School of the Ages, from experts on cruise ship romance to experts on airplane mechanics, but today's guest is my first ever expert on being awesome. I hereby appoint today's guest as School of the Ages Instructor of Awesomology. You will remain on the job, sir, until John Cleese agrees to an interview, and that won't be soon.

 

I ask most people this one to start:  who are you, where do you live, how do you like it there?

 

I'm notable Awesomologist Matthew Dean. The reason I'm notable is because there are no other awesomologists because I made it up. I figure it's like an archeologist only I uncover awesomeness using that dinosaur brush that those guys are using at the beginning of Jurassic Park. If you don't remember that movie, you are not awesome.

 

I live in Vancouver, British Columbia. That's in Canada. I love it here actually. The fact that Vancouver has an international reputation as one of the most beautiful cities in the world is no mistake. Although, like most places in the Pacific Northwest, the endless rains of winter can be brutal. But, we quickly forget about it when the sun comes out, and, like the majestic loon, many Canadians fly south for the winter.

 

Like superheroes, writers have secret origin stories. What's the secret origin of your identity as a writer?

 

One day, while hiking around a nearby lake, I found a magical amulet that imbued me with the power of fast typing. Oh, not a superhero story? Well, I think a title of "writer" was, for a long time, difficult for me to self-apply. Writers only wrote, and knew all about book culture and wore scarves and probably had a vintage typewriter somewhere. I remember when I told my wife that I wanted to try out this writing thing and see if I could become a writer, and she gently reminded me that I already had two books published.

 

That's the thing about doing things you're passionate about. When it's really close to who you are, it doesn't seem like a big deal, and so you downplay it. I've always been writing. I've always loved telling stories, using whatever medium I could get my hands on. Acting, film, stand-up comedy, music, books, it doesn't really matter what it is; I just like putting stuff out there. So, sure, I'm a writer. But not, you know, a "writer".




Tell an interesting story about your writing life.




In the seventh grade English class, one of our assignments was to share sentences each week with the current set of vocabulary words. Another class comedian and I realized that by creating really long sentences, you were basically granted have a mini-stand-up performance in class, which just happened to have a vocabulary word inserted somewhere.




Because I've been a performer for much of my life, I've often thought of writing as performance. I don't really think of my audience as passively reading what I've written. I like to write like the reader is in the room with me, and we're sharing the same inside jokes, the same "aha" moments about the characters. I want the reader to go on the journey with me, as if the story is happening right now.




Tell an interesting story about your non-writing life.




Somewhere around age 10 or 11, I got it into my head that I was going to build a hovercraft. To me, it was the coolest kind of transportation one could possibly have, and somehow I felt that this was something that I could achieve. I spent hours thinking about how to do it, and I think I even sent away for a hovercraft construction guide, but their materials were far too expensive. I would often visit our old barn (which we used as storage), and just poke at the old lawn mowers. Could the engines be converted? Would it be a simple matter of sufficient thrust with the right propeller? I started carving a propeller out of a 2x4, but I guess I eventually decided I was perhaps in over my head. I still haven't given up hope, though.




Another author I have interviewed here, James C. Wallace II, actually builds hovercraft...   You write both humor for adults and chapter books for children. I'll ask you about both, but first, how does that affect your marketing?




I don't really market the Dr. Matt books as "Matthew Dean" books. To me, those books are written by the character of Dr. Matt, and they are their own set of unique products. On my website, I say that I created Dr. Matt, and Dr. Matt wrote the books. Whatever he had to say was up to him.




Now that I'm starting to publish books as just Matthew Dean, I'm still playing a bit with what that branding will be. But I would say that humor and satire are elements that apply to much of my writing. However, humor is so inextricably tied with tragedy that it's inevitable that I'll write something without a joke in it, which is actually hard for me to pull off, in terms of material. Maybe it's just something about me, but people unexpectedly laugh at things I've written that I intended to be humorless. I don't know why that is. It's me, isn't it?




Your children's books so far are about dragons. Why dragons? What are your favorite books about dragons that you didn't write?




My impulse is to say, "Why wouldn't you write about dragons?" Dragons are one of the coolest creatures of mythology. They are often ascribed qualities like nobility and loyalty, and other times danger and destruction. In many fantasy stories, they're often intelligent creatures who even communicate by speech. And then, if that wasn't enough, fire from the mouth. Dragons have captured the imagination of cultures around the world for thousands of years for good reason.




I think one of my favorite books about dragons is one that I couldn't even tell you the name of. For a while in middle school, I was picking up fantasy books at the school library. One story I remember was about a future, post-apocalyptic wintery world, a contrast to the pre-history tone of many fantasy novels. In the ashes of this radioactive world, magic had started to emerge. And from the mutated species, dragons began to appear. At least, that's how I recall it. I like origin stories, and a story that could be about the beginning of magic and the beginning of dragons was really compelling.




Do you consider your children's books whimsical? Why or why not? If yes, what is it that attracts you to a whimsical tone?




First, I don't really consider them children's books. They're written with the tone of children's books, and I think littler people would love them for that reason, but there are themes and jokes that are definitely for the forty-year-old child as well. Looney Tunes are probably now considered children's cartoons, but many people forget that they were originally intended to be viewed by adult audiences. So, yes, they're definitely whimsical stories. Adults can be silly and whimsical, and I've always found stories of that nature to be appealing across all ages.




Just for me, would you let Cara and Charlie meet a manticore, a bonnacon, or a catoblepas?




I had to run those through Google. Are you asking if I would insert those into a story? In the Cara and Charlie universe, a more typical encounter might be with a politically-conservative faun who runs a talk show (maybe called something like "Goatfire, With Mr. Tumkin"), but I'll see what I can do.




Give a quick history of the character Dr. Matt -- how you invented and popularized the character, and how the books by him came to be written.




Dr. Matt was cheaper than therapy. I had started leafing through self-help books at other people's houses (especially if they left one in the bathroom), because I really did have some stuff I was trying to work through. It didn't really help, which was ultimately helpful. That is, it inspired me to create Dr. Matt, as a character that would kick my ass whenever I was feeling sorry for myself. I started with the first book, then created a blog on Myspace (yes, Myspace, it was that long ago), which evolved later into a website, a podcast, and eventually, videos. Dr. Matt now delivers weekly Dr. Matt-isms to several thousand fans on Facebook.




That is you costumed as Dr. Matt, right? If not, who is it? Is Dr. Matt in any way modeled on either Groucho Marx or Snidely Whiplash?




Yep, you are looking at yours truly, albeit with a fake mustache. The mustache, I gotta be honest, is lifted straight from Dr. Phil. Because, c'mon, that mustache is inherent comedy. 




My favorite humor writer is clearly Robert Benchley. Monty Python created my favorite sketch comedy. Talk about humor writers and other comics that have influenced you.




Definitely Jon Stewart and Stephen Colbert. And I watch a lot of Bill Maher. Probably one of my favorite stand-up comedians is Lewis Black. I love comedians who can be funny and also say something substantial. I mean, Jerry Seinfeld is great and iconic at observing hilarious things about everyday human behavior, but there's no real awareness, no social impact made from his comedy. Not that there's anything wrong with that. I just really appreciate the craft of making people laugh, and in that disarming moment of laughter, putting them in a place to be receptive about a transformative idea or a profound truth.




If you wouldn't mind stepping into character for a while, perhaps Dr. Matt could answer these questions..




Okay then. *dons mustache and prepares Texan accent* Let's see what we have here.

 
Q. I'm a teacher and my students hate me. What should I do?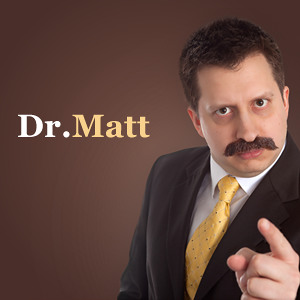 First, have you tried doing things that aren't hateable? That's important. Second, how attractive are you as a person? I find it's really difficult to hate someone who's all done up and prettified. So, find someone who knows about fashion and whatnot and see if they can't make you less unappealing.
Q. I feel like lot of today's pop music is crap. Is it okay to dislike it? Or does that mean I've become old and decrepit and useless?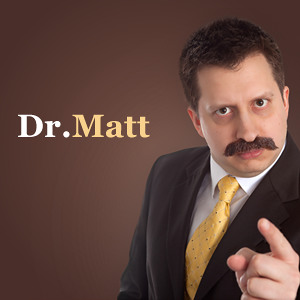 A.It's okay to dislike it, but yes, it does mean you are old and decrepit. I don't know about useless. It seems you can still fulfill a societal function of complaining about pop music and demanding that young people vacate your lawn.
Q. Why do I have so many cockamamie problems when I try to buy a good video-editing software I can run on my PC that won't crash when I try to finalize/render a video?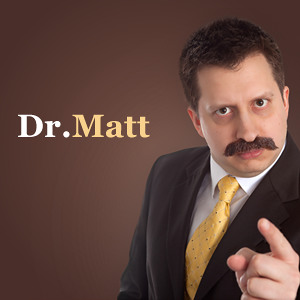 A. Number one, buy a Mac. Owning a PC is just further cementing the old and decrepit thing. But if you have to use Grandpa technology, try stuff with a reputation of being reliable. Sony is known as a reliable brand for grandpas, and my Filipino support staff tells me that Sony has video-editing software that's fairly decent. Good luck.

 

Thanks, Dr. Matt.  Matthew Dean, please share links for both categories of your products.

My links

Twitter: https://twitter.com/matthewdeaners

Facebook: https://www.facebook.com/matthewdeaners

Goodreads: https://www.goodreads.com/author/show/7341242.Matthew_Dean

 

Dr. Matt


Web: http://drmatt.me/

Facebook: https://www.facebook.com/askdrmatt

Twitter: https://twitter.com/followdrmatt

 

 

What words do you have for readers to close this interview?

 

Doing publishing all on your own is a challenge, as you have to build your own marketing engine. Readers can be hesitant to try out your book without a bunch of reviews attached. But I'd invite them to try out the Cara and Charlie series. For me, it's been a fun and interesting ride to create, and hopefully it's a fun experience for readers as well. I look forward to hearing what they think!

 

Please ignore the HTML garbage that follows. It is because of the website, not because of me. -- Matt


 

/* Style Definitions */ table.MsoNormalTable {mso-style-name:"Table Normal"; mso-tstyle-rowband-size:0; mso-tstyle-colband-size:0; mso-style-noshow:yes; mso-style-priority:99; mso-style-qformat:yes; mso-style-parent:""; mso-padding-alt:0in 5.4pt 0in 5.4pt; mso-para-margin-top:0in; mso-para-margin-right:0in; mso-para-margin-bottom:10.0pt; mso-para-margin-left:0in; line-height:115%; mso-pagination:widow-orphan; font-size:11.0pt; font-family:"Calibri","sans-serif"; mso-ascii-font-family:Calibri; mso-ascii-theme-font:minor-latin; mso-fareast-font-family:"Times New Roman"; mso-fareast-theme-font:minor-fareast; mso-hansi-font-family:Calibri; mso-hansi-theme-font:minor-latin;} /* Style Definitions */ table.MsoNormalTable {mso-style-name:"Table Normal"; mso-tstyle-rowband-size:0; mso-tstyle-colband-size:0; mso-style-noshow:yes; mso-style-priority:99; mso-style-qformat:yes; mso-style-parent:""; mso-padding-alt:0in 5.4pt 0in 5.4pt; mso-para-margin-top:0in; mso-para-margin-right:0in; mso-para-margin-bottom:10.0pt; mso-para-margin-left:0in; line-height:115%; mso-pagination:widow-orphan; font-size:11.0pt; font-family:"Calibri","sans-serif"; mso-ascii-font-family:Calibri; mso-ascii-theme-font:minor-latin; mso-fareast-font-family:"Times New Roman"; mso-fareast-theme-font:minor-fareast; mso-hansi-font-family:Calibri; mso-hansi-theme-font:minor-latin;}